• Aloominous • nailpolish • Polish Pickup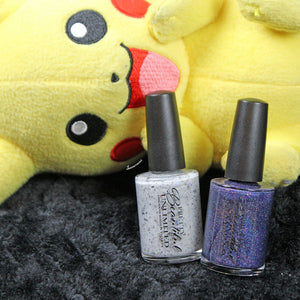 February Polish Pickup theme is Famous Duos. Pretty Beautiful Unlimited picked a really cool duo to create into polish.
It was suggested in the Pretty Beautiful Pawlish Facebook group to use the sun and moon as inspiration. Virginia took that idea and kicked it up a notch using Pokémon Sun and Moon as her inspiration.
I'm super thrilled to share this duo with you! Pokémon has become a fun family filled time in my house. All my boys love the trading cards and watching the cartoon, and my husband and I participate playing Pokémon Go. The family regularly goes out for spins, gifts, raids and to catch a rare spawn.
Yes, we're those people you see congregating at parks and stores, tapping wildly at our screens and getting excited when we "catch" that new Pokémon. There is no shame here!
To keep you from giving me major side eye, we'll jump right in to the polish.