• nailpolish • The polished hippy
Pretty Beautiful Unlimited recently released the Do You Believe in Unicorns? Collection, a nine-piece set jam packed with holo and glitter! I have the first three to show you today - let's have a look. 
*sent by the maker for photography and review*
---
• nailpolish • The polished hippy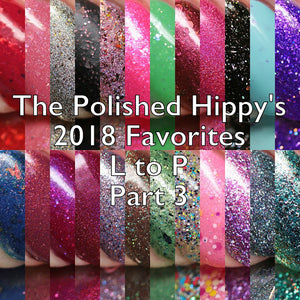 I am ready with the 3rd part of 
The Polished Hippy's 2018 Favorites! 
This post covers brands starting with letters L to P. I will warn you it is photo heavy and not minimalist in the least! Now, these are not 
all
 the polishes I loved in 2018, just ones that were reviewed on the blog and I have pictures of. 
Click the name of the polish in bold to check out my original review! 
There will be one final post after this with polishes to the end of the alphabet. Onward with more gorgeous polish!