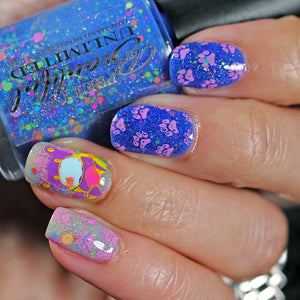 If the name didn't give it away the inspiration for this 80's theme polish is the Popples! Popples are these multicolored marsupial teddy bears with long tails that have a fuzzy pom-pom on the end. They can roll up into their pouch and turn themselves into this fuzzy round balls. Talk about a great travel pillow! The 80's was full of rainbow colors which crosses over to polish with a bang.
---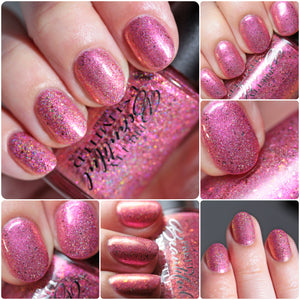 Polish Pickup
 is about to come back for a new theme, this time 
Album Covers! 
The shop opens 
Friday, March 1 at 11AM EDT 
and the pre-order runs through 
11:59 PM EDT on Monday, March 4
. The 
Polish Pickup
 is a Facebook group and pop-up shop that offers monthly pre-orders of indie polish made to themes voted on by members of the group. This post features
Pretty Beautiful Unlimited's
 aurora-shimmer-packed shifting jelly holo! This polish has tons of sparkle that is sure to brighten your day.
*sent by the maker for photography and review*
---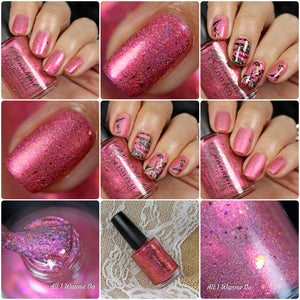 Another Polish Pickup post is coming your way. We'll review all of this month's details in case you haven't had the chance to read yesterday's post.
March's Polish Pickup theme is Album Covers and Pretty Beautiful has chosen Christina Aguilera's Lotus for inspiration.
---
• Exclusive • nailpolish • Polish Pickup • Polished Lifting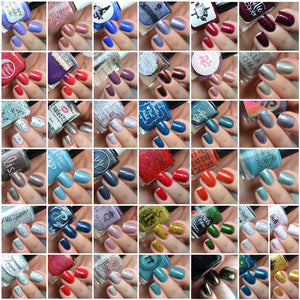 Polish Pickup February 2019 Brands Li-Z & Assorted Duos - Press sample
Welcome to one of two official blog posts for the February 2019 Polish Pickup! This is a HUGE post with everything you need to know about the upcoming Polish Pickup shop. You can find additional information in the Polish Pickup Pack.
---
• Aloominous • nailpolish • Polish Pickup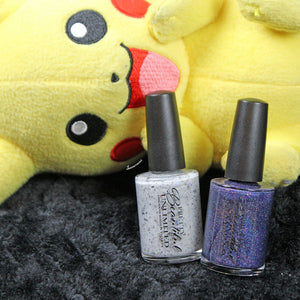 February Polish Pickup theme is Famous Duos. Pretty Beautiful Unlimited picked a really cool duo to create into polish.
It was suggested in the Pretty Beautiful Pawlish Facebook group to use the sun and moon as inspiration. Virginia took that idea and kicked it up a notch using Pokémon Sun and Moon as her inspiration.
I'm super thrilled to share this duo with you! Pokémon has become a fun family filled time in my house. All my boys love the trading cards and watching the cartoon, and my husband and I participate playing Pokémon Go. The family regularly goes out for spins, gifts, raids and to catch a rare spawn.
Yes, we're those people you see congregating at parks and stores, tapping wildly at our screens and getting excited when we "catch" that new Pokémon. There is no shame here!
To keep you from giving me major side eye, we'll jump right in to the polish.